Last week, we posted a question of 'What social media outlet would you like to know more about?' on Facebook. After tallying the results, users wanted to know more about Pinterest. So here is a basic idea of what you can expect from using the site. Be sure to Like us on Facebook to get involved in the next Direct the Discussion.
Pinterest is a social media site designed to use images from around the internet to fill out a user's 'pinboard'. There is really no limit on what kinds of images appear on the site. There are stock photos, candid shots but most of all there are images of a home or household nature.
I am going to describe some of what I saw on the site on first arrival. There are pictures of flower-decorated cupcakes; a few images describing how to make doily lamps; craft supplies; new storage options for appliances; window decorations; kittens basking in the sun; this is why I used the term 'home or household nature' previously.
At this time, there is no way to create an account by simply going to the site, so it differs from other social media. An
article from Inc.com
says that the site targets the female demographic. From examining the images which come up when you visit the site, I can see the pattern. Many of the images are simple in nature. That does not mean that they are lacking composition. Most of the images are of a single item. Since sites have been using Pinterest as a virtual catalog, you would not want to have several things in an image that could confuse someone looking at it. The last thing that you would want to have happen is someone looks at it and thinks that the wrong prop in a photo is not for sale.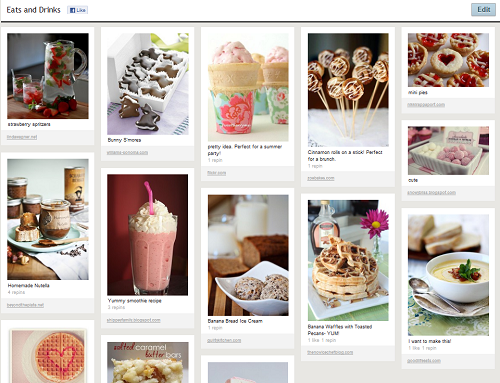 When visiting the site, there are options to
look for different themes and ideas.
You can search for them, but if you want
people to find items easily, you put it
in a place they would expect to find it.
Many of the images look as though they are from a household magazine, i.e. Better Homes and Gardens, Good Housekeeping and the like. This is how the site is being used. Flash and flair. These images are designed to catch the eyes. Colorful images, things that could be considered cute, it has to have an attraction. The same
Inc.com article
suggests that images should be simple. There is not really any space to put a full description, so you would want another user to click to be sent back to your site rather than commenting and moving on. This could simply be for the opening page, there seems to be a few images involving Star Wars just on the homepage, but the site puts its target directly out front.
This is the same way that a site could be targeted at men. When designing a sports website, many use the model of 're-live the glory' (if you type those words into Google, you get 3 million hits on those words alone). Items on the sports site are typically, alcohol, outdoors, attractive women. The site plays off of those major interests to make sales and attract new business. Pinterest does the same thing, with very little cost to them.

Uploading to Pinterest

Users have to post or link new images on their own and other users comment or re-post and it expands outward in the usual way. The more friends or users they are watching the more they will see. An
article on Dynamicbusiness.com
says that this can be the dangerous part about selling items and having them on Pinterest. Users are there to say that they like things and share them. The community is interested in creative and interesting images, not a catalog price that says that their dreams of owning a particular item will only come to fruition with $5,000 or a magic lamp.
A very useful blog
article by Asif Iqbal
on SearchEnabler.com goes into the specifics of working on Pinterest. As with many sites, the business application of social media is not to be blunt. When people go to a site like Amazon.com, they go to buy or browse things to buy, when people go to Pinterest they go to comment and send to their friends.
This site could be useful to a small business, if it fits your demographic and arranged in the right fashion. For example, a business of plumbers that works mostly on houses probably would not get many people interested on Pinterest with pictures of ripped-up walls to show how they install the pipes. Instead, the company could focus on the finished bathroom or kitchen, a design team or on particular features that the company focuses on. If they are the leading installer of specialty tubs, then they probably should be posting images of people using them, relaxing in them and enjoying them. It is all about the presentation, then you lead them back to where they can get it.

The button.

Also, an
article on USAToday.com
recommends that sites that are trying to get people to buy and are interested in using Pinterest, should add the Pinterest button to their sites and even their emails. The 'Pin it' button will allow people who visit their websites to post images on their own. For some of the technical aspects to getting a 'Pin it' or 'Repin' buttons to websites and blogs, take a look at an
article from TheBlogStylist.com
.
This is a catalog or showcase of items and products; you can show future clients what your business can do for them.
For additional information, please follow the links throughout the posting, as well as an
eBook from Hubspot.com
.