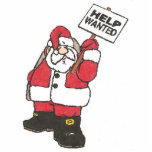 Tis the season! Now that we are in the month of November, Christmas displays are going up and small businesses everywhere are trying to take advantage of this time of year, where on average sales increase by about 20%. More business equals a greater need for more employees, right?
According to this article by Fox Business news, where 800 small businesses were surveyed, that is simply not the case. A whopping 86% of small businesses said they were not going to be hiring this holiday season. Half of them said they don't need the extra help, and a third of them said they could not afford a new employee.
The survey also concluded that 75% of small businesses are using social media this year to market their holiday sales, interact with customers, etc. Make sure to check back daily to the Kutztown SBDC blog, as from now until Christmas, as the posts will be catered to helping increase sales during this holiday season!
For the entire article on the lack of holiday small business hiring, click
here
.